Chef Uniform Service Preferred by Chefs
Posted by CoastLinen on Sun, Nov 01, 2020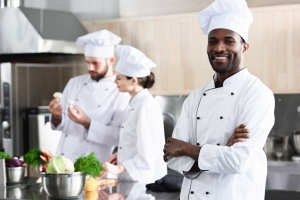 If there's anyone who can identify a quality chef uniform service, it's the chefs themselves. Coast Linen's chef uniform service in New Jersey meets the approval of chefs everywhere. And it's because we know what a good chef uniform requires.
Coast Linen chef uniforms are desirable to chefs thanks to their outstanding appearance, quality, and comfortability:
Wearer-Friendly Chef Uniform Service
It's no secret that the commercial kitchen is one of the most unforgiving workplaces. For one, it is teeming with burn risks, breakables, and sharp objects. Then there's the intense humidity, tight spaces, and moving bodies! Couple this with high pressure and long hours, and it's easy to see why it can be grueling. That is why chefs have a preference for Coast Linen's uniform service. Uniforms designed with the wearer in mind.
Coast Linen's uniform selection has some of the most comfortable workwear you can find on the market. Our chef shirts and pants feature top-notch fabrics. They are breathable and lightweight. This makes working in the heat more bearable. On top of that, these garments are crafted for ease of movement.
Tough Against Wear and Tear
Chef uniforms from Coast Linen feature optimum durability. They can take on heavy use and strain from repeated washing. The seams are sewn extra securely to protect against ripping. The fabrics are less vulnerable to permanent staining thanks to stain-wicking materials. The material is also less likely to discolor or fade even with heavy use and heavy washing.
Chefs prefer Coast Linen's kitchen uniforms because they withstand the test of the kitchen.
Professional Appearance for Each Shift
Chefs also prefer Coast Linen's chef uniform service for outstanding design selection.
Our chef uniforms make the toughest of shifts look easy. The design on our kitchen wear can go seamlessly behind the kitchen as well as it does in the dining room. We have different design selections to choose from as well! Whether your restaurant is more on the upscale and formal, or the casual chic, there is a Coast Linen chef uniform to suit your needs.
The Restaurant Uniform Service Chefs Can Fully Rely On
Aside from the excellent quality of the uniform selections we offer, we also stand out in garment maintenance. Coast Linen's expert restaurant laundry service keeps your uniform supply looking and feeling great.
Our laundry process is designed to meet the needs of a commercial restaurant. That means meeting standards on food-safe cleanliness while preserving the condition of your uniforms. 
This leaves you with uniforms that are always presentable and always ready-to-use.
And with our efficient and reliable delivery program, we can assure you the on-time arrivals of your clean uniforms. No delays. No shortages.
Be One of Coast Linen's Happy Chefs Today!
End the search. Quit the hassle. Your chef uniform service needs are always better with Coast Linen. Join our long list of happy clients today! Contact Coast Linen at (732) 775-2000 to get started or to inquire about our services.