How to Keep Your Restaurant Clean
Posted by CoastLinen on Tue, May 19, 2020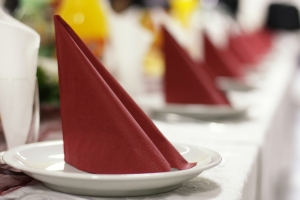 In any business, cleanliness is a requirement for safe operation and positive appearances. In the restaurant industry, however, that demand is heightened. Eating food prepared by a stranger requires a considerable level of trust, and nothing dashes that trust faster than a dirty appearance.
Now more than ever, customers in your restaurant are going to be looking at how clean your restaurant is. Heightened hygienic standards as a result of the Coronavirus aren't likely to go away, even after the virus subsides.
Here are some tips that will help keep your restaurant clean and your customers comfortable:
Create a Checklist
There's no substitute for a comprehensive checklist. No matter how highly trained an employee is, nobody is perfect all of the time. Having a checklist detailing every duty to complete during a shift not only ensures that everything gets done, but also provides a visual reminder of what's left. Seeing what tasks need to be accomplished will keep employees on-track and focused.
Before takeoff, would you rather your plane run through a checklist, or just hope someone remembered everything? When the goal is the hygienic cleanliness of food preparation, there's no good reason to give up certainty.
Increased/Continuous Training
Most professions require or highly recommend continuous training in some form or another. For a restaurant, continuous training is generally focused on food handling: food storage, washing procedures, etc. It's also important to consistently review general cleaning procedures. Not only will refresher courses keep clear exactly how you expect your business to be cared for, but will also ensure every employee knows, no matter how new.
Continuous training also allows the opportunity to improve current practices. Be it a new threat or a more efficient technique or technology, continuous training allows modifications to be made. If your employees are acclimated to constantly improving for the better, that transition will be much easier.
Reliable Floor Mat Services
If there were a way to keep up to 85% of outdoor dirt and dust out of your restaurant, would you be interested? Because that's exactly what professional floor mat services can do. With the right series of mats placed strategically and cleaned consistently, your floors can be kept safer and cleaner with far less effort. Not only that, but quality, professionally cared for mats provide a secure place to stand and walk. When it's raining or snowing, the right mat can make a dangerous area of your business much safer.
Professional Towel, Apron and Mop Services
Every restaurant needs a steady, clean supply of towels, aprons, and mop heads. If keeping your business clean is a priority, you'll never want to be without any of them! When you get your towels, aprons, and mops through Coast Linen Services, you're getting the best service in the business. You'll get high-quality materials and customer care that you can rely on.
Contact Coast Linen Services Today
To secure your restaurant's cleanliness, you need the best supplies in the business. We can get them to you. For more information on our services, give us a call at (732) 775-2000 or contact us here.