Benefits of Restaurant Services Through Coast Linen Services
Posted by CoastLinen on Thu, Jul 02, 2020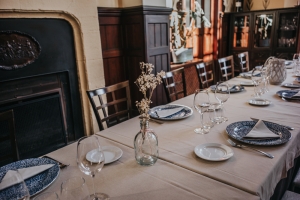 Expertise is not created overnight. Ours is built on a 75-year foundation of excellence, hard work, and an unmatched dedication to serving the needs of each of our clients.
When we say we know restaurant services, it's not just talk the talk. We have a long list of happy and satisfied clients that experience it everyday!
Whether it's as simple as your kitchen towels or as crucial as the very garments that your chefs and waiters wear, Coast Linen Services will make sure that you get the best experience.
Restaurant Services That Treat Your Linens Right
From our state-of-the-art facilities to our laundry processes, we make sure that your linens and apparel are not only clean but that their appearance and quality are preserved. We know the wear and tear that daily restaurant operations can take on linens, but our methods are designed to prevent this damage from getting in the way of making a good impression. 
We put to good use everything that we have learned over the last 75 years to make sure that your linens meet your needs, exceed expectations, and deliver the results that you need from them – whether they're for sopping up spills in the kitchen or wowing your diners on the table.
We'll Give You the Right Linens 
We know quality when we see it – and that's exactly what we will serve you. We keep strict criteria for which items go into our selection, making sure that standards are met on multiple fronts: appearance, durability, and launderability among others.
We'll Make It Easy 
Running a restaurant and keeping your diners happy day in and day out is challenging enough. Adding a set of stained, battle-worn linens to the mix can be taxing. We have carefully strategized every aspect of our service – from pickup to delivery – to prevent delays, shortages, supply mix-ups, and any sort of disturbance that can affect the stability of your linen supply. We have also created service solutions that protect you against linen losses.
We'll Be Right Here for You
It's hard to give up control, especially over something as integral to your operations as your linen supply and management. It's completely normal to worry and want to get on top of the situation. That is why we've made our customer service programs accessible to you. Our representatives are always ready to address your concerns, make adjustments when you need them, and just listen to you. We're more than just vendors – we are your partners and we've got your back!
Coast Linen Services Will Treat Your Restaurant Business Right!
Experience the ease of doing business with Coast Linen Services! Get in touch with us for all your restaurant linen service needs. Contact us today at (732) 775-2000.